Community Group of the Year
We are delighted to announce the winner in the Community Group of the Year category.
Irlam and Cadishead Volunteer Driver Scheme
Irlam and Cadishead Volunteer Driver scheme was set up in 2012 to help local people get to hospital appointments and reduce the cost of travel. Drivers volunteer between two to six hours a week using their own vehicles and build relationships with patients giving them emotional support in difficult times.
The  other finalists were:
Youth Unity Youth Club
Youth Unity's volunteers give their time and energy in abundance to provide somewhere safe for the young people of Little Hulton to meet their friends and take part in fun and constructive activities. Around 70 young people attend the club each week. Youth Unity volunteers also provide additional sessions for young people during school holidays; support an annual toy appeal at Christmas; and maintain the Youth Unity Facebook page which provides information about what's available for young people in Little Hulton. In November Youth Unity Volunteers delivered an awareness event on cervical and breast cancer, engaging with over 120 people and raising over £750 for cancer charities.
Salford Dadz
Salford Dadz is a very successful local support network, created by dads for dads. It was established in 2013 to find new ways of improving the well-being of disadvantaged fathers and thus to have a positive impact on their children. The group has grown and developed significantly over the past four years. Salford Dadz is led by a council of dads and organises activities voluntarily throughout the year. Salford Dadz has created male-friendly spaces where positive role models talk openly 'shoulder to shoulder', as well as offering fun father and child activities that enable bonding, including a well-established weekly Saturday Club for dads and children of all ages.
Walkden Community
Walkden Community's very valuable work includes running a Facebook page which provides almost 10,000 members with information on local events, services and job opportunities and hosting two large annual events: a Summer Festival in the park and the Walkden in a Winter Wonderland event. Additionally, in the summer of 2018, they hosted an ambitious health themed family fun day attended by nearly 2000 people, with11 local GP practices and other local services offering health themed activities.
Pink Picnic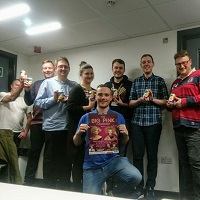 The Pink Picnic group organises Salford's Lesbian, Gay, Bisexual, Trans plus pride event. The event is attended by thousands and promotes equality, diversity and inclusion, increases the visibility of the LGBT+ community. The Pink Picnic builds community cohesion and promotes hate crime awareness. The event helps the LGBT+ community feel a part of the wider community and raises the awareness of LGBT+ issues in Salford. It also provides a very valuable opportunity for local LGBT+ people to get involved as volunteers and gain new knowledge and experience in event management.